Boring Mills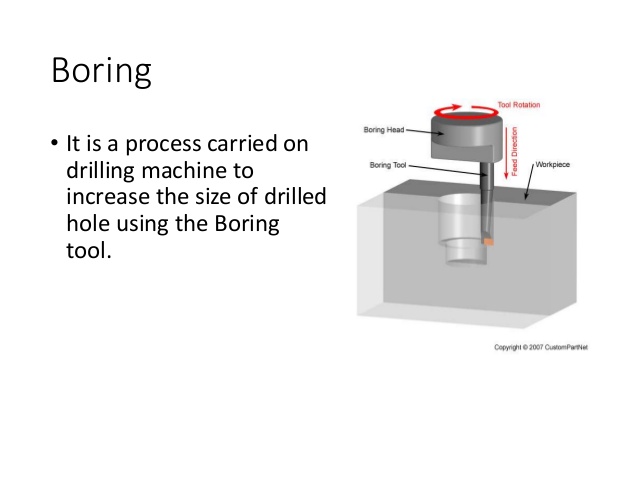 In machining, boring is the process of enlarging a hole that has already been drilled by means of a single-point cutting tool, such as in boring a gun barrel or an engine cylinder. The boring process is used to achieve greater accuracy of the diameter of a hole, and can also be used to cut a tapered hole.
There are several types of boring processes. Lineboring implies that the boring bar may be supported on both ends, which only works if the existing hole is a through hole. Backboring is the process of reaching through an existing hole and then boring on the "back" side of the workpiece.
Boring machines are used to mill, drill, bore, cut threads or face turn using a rotating tool, usually a cutter, drill, boring rod or milling head. Boring machines are used to drill closed and open openings in solid material, boring, reaming, threading, milling surfaces, etc. Drill bits, reamers, thread cutters, milling cutters and other tools are used to perform these operations.
There are two types of boring mills, horizontal and vertical. On a horizontal machine the spindle is mounted horizontally and on a vertical machine the spindle is mounted vertically. The main difference between the two is that on a horizontal boring mill, the workpiece is stationary and the tool turns, while on a vertical boring mill, the tool is stationary and the workpiece turns. The shape of a workpiece will generally determine if a vertical or horizontal machine is used.
Horizontal Boring Mills
A horizontal boring mill or horizontal boring machine is a machine tool that bores holes in a horizontal direction. The main distinction for a horizontal boring mill is that a horizontal mill's workpiece is stationary, while the tool itself turns. Horizontal milling relies on rotary cutters to remove metal from a workpiece. There are typically three linear axes which the tool head and part move.
There are three main types of horizontal boring machines: table, planer and floor. The table type machine is the most common, it is also known as the universal type because it is the most versatile one out of the three types.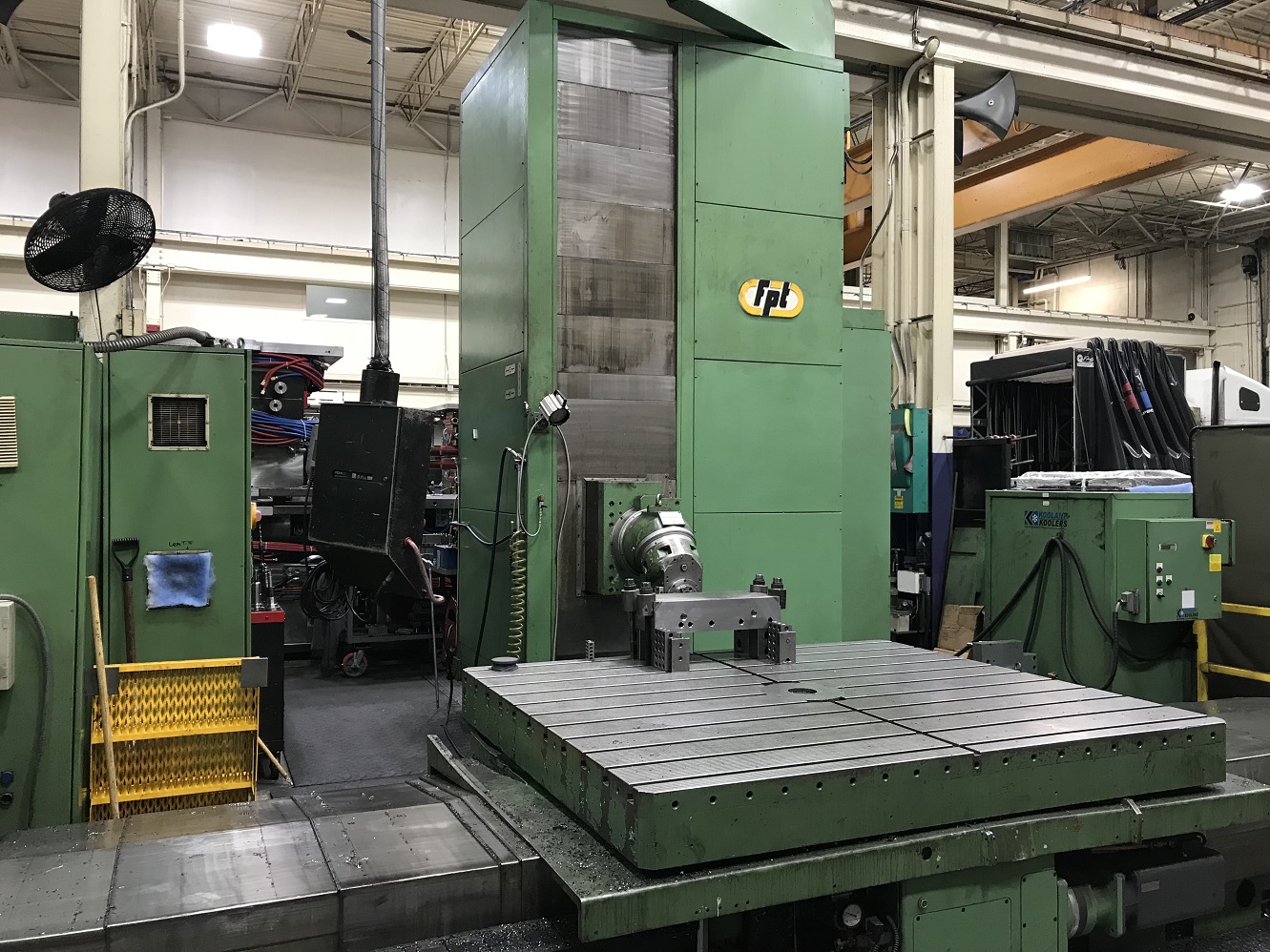 A horizontal boring mill allows for more versatility because the machine tool doesn't limit part sizes. It can allow for extremely large parts to be machined easily and allows users to reach small cavities in the workpiece.
Horizontal Boring Mills are manufactured by many different brands. Among those are Cincinnati, Doosan, Giddings & Lewis, Ikegai, Kearny & Trecker, Lucas, Mitsubishi, Pfeifer, Toshiba and Wotan.
A few things to consider when choosing horizontal boring machines:
Production – Horizontal boring mills are machines not suitable for production of high volume parts. It is however, able to provide flexible options when it comes to housing and operating parts that are large and complex but require high production.
Cost – The main thing to consider when choosing machines for your production is if it can meet the requirements and give results that are cost effective.
Vertical Boring Mills
Vertical boring is a machining process whereby a part to be machined is clamped to a bed and a machining tool is rotated to produce some cylindrical, internal feature in the workpiece. In a vertical boring machine, also known as vertical turret lathes, the spindle axis is vertically oriented. In contrast to a horizontal boring mill, the tool itself is stationary while the workpiece turns. The shape of a workpiece will generally determine if a vertical or horizontal machine is used.
Typical applications for vertical boring are: Lineboring of large machine tool casings and engine blocks. Vertical boring mills are more applicable to machining water turbine runners, turbine casings, ring gear blanks, large pipe flanges, locomotive tires and machine tool tables.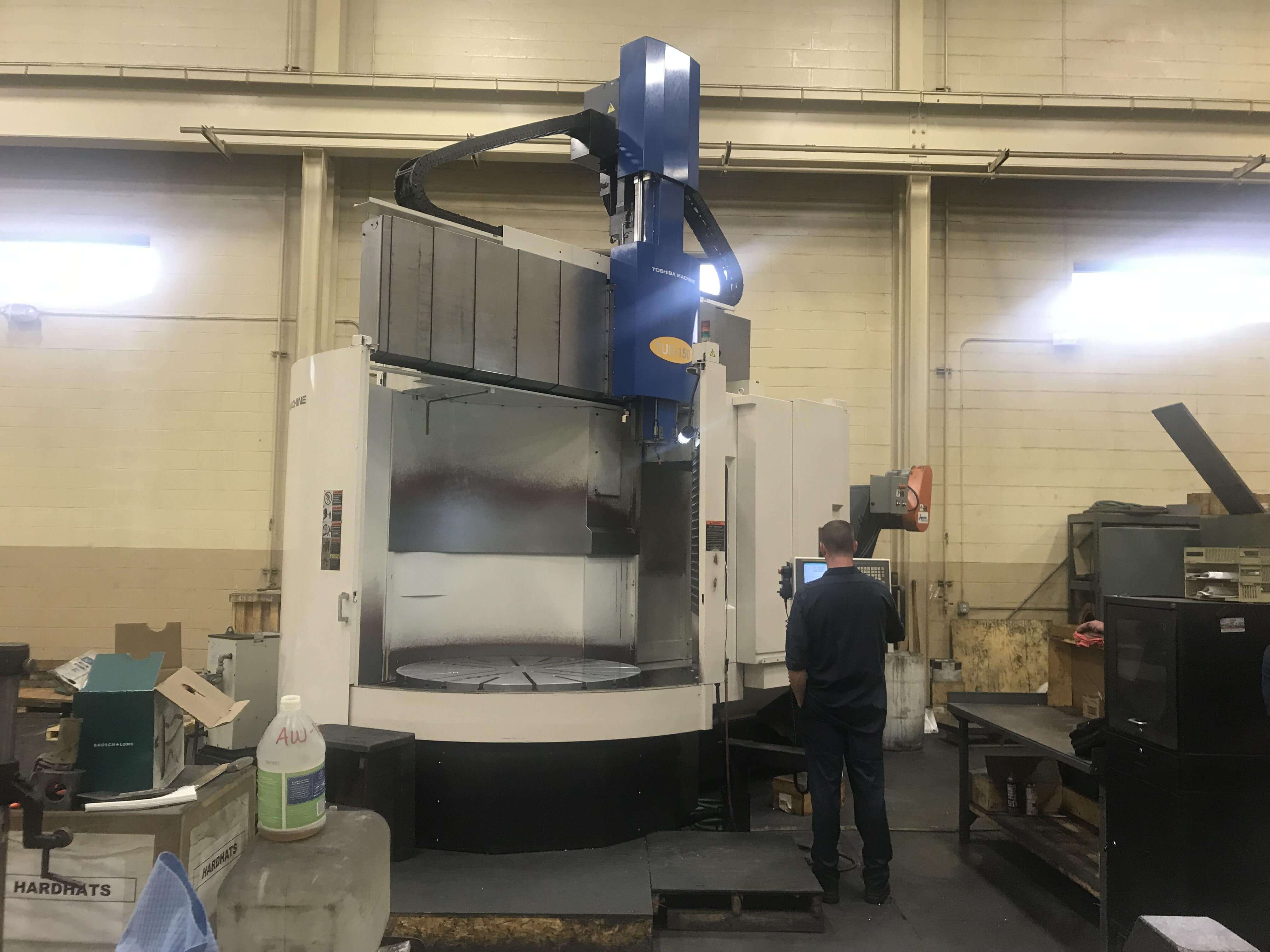 Vertical boring mills, sometimes called vertical turret lathes, can perform almost all common lathe operations including turning, boring, facing, tapering and cutting of internal and external threads.
A few things to consider when choosing vertical boring machines:
Spindle Motor Horsepower – Virtually all mills will have a way to gear down the motor to gain torque. Milling steel requires high torque and low speed, while aluminum needs the opposite. Generally you can compensate for a motor without a ton of power, but the last thing you need is the motor stalling in the middle of a cut.
Size – Small desktop milling machines can be tempting, but it could be best to avoid them especially if you plan to mill metal. Your milling machine needs to be able to apply as much force without flexing at all. Even just a little bit of flex will ruin any chances of milling a part with respectable tolerances.
DRO and Power Feed – A DRO(digital readout) is a module that can be added to each axis of a milling machine. Some machines come with them, while others have them as an upgrade package. Using a DRO isn't strictly necessary, as all mills have dials for measuring movement. However reading them can be cumbersome and time-consuming. A DRO can make things a lot easier and speed up the process for users.