CNC Lathes
CNC LATHE TYPES
STANDARD 2-AXIS CNC LATHE/TURNING CENTER
A standard lathe is used for removing material from a part. This is achieved by using a variety of tooling and cutters depending on the specific result the operator is looking to achieve.
Standard 2-axis CNC lathes use O.D. tooling to remove material from the outside of the part and I.D. or Boring Bar holders to remove material from the center of the part being turned.
CNC Lathes generally have a single spindle, a turret and a tailstock. The capacity of the lathe can vary based on length, diameter and weight of the part being turned.
There are many brands that manufacture CNC Lathes. Among those are Okuma, Mazak, Haas, Daewoo, Doosan, Hardinge, Hwacheon, Johnford, Ikegai, Hyndai Wia, Leadwell, Milltronics, DMG , Miyano and many others.
When inspecting a CNC lathe there are many things to consider: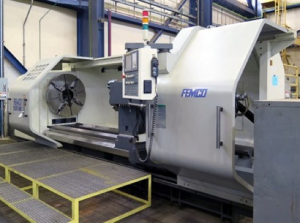 Overall condition is crucial. Checking the electrical cabinet for any obvious repairs, changes or add-ons as well as its overall state of maintenance. Is it clean and neat? Is it dirty with loose wiring and missing/damaged components?
Listening to the machine running can tell the buyer a lot about the condition of the lathe. Listening to the spindle can alert you to bearing issues, belt wear and other common wear-issues.
Once you know how the machine sounds, it's important to inspect the turret. Does the turret seat properly when it is indexed or does it retract out of balance? Are there any signs of a previous crash? Dings, marks or divots in the turret itself? Does the turret index smoothly and sound quiet?
Knowing the way surface condition is also necessary when inspecting CNC lathes. Are the ways getting good lubrication or are they dry? Are there any wear marks visible? The ways should be shiny, smooth and have a good amount of oil on them.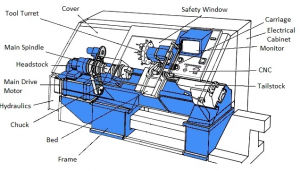 Considering the CNC Control is essential. There are many different CNC control manufacturers on the market including: Fanuc, Mitsubishi, Haas, Okuma OSP and more. It is important to pull the hours on the lathe. This will give you an indication of the number of shifts the lathe typically ran. It is also important to keep in mind that hours can be deceiving – a machine can have lower hours but not be maintained well, whereas a lathe could have more hours, but may have been kept in good condition through regular maintenance.
These are the basics of a CNC lathe. Below we will explore some of the variations on a CNC lathe.

3-AXIS CNC LATHE
A 3-Axis CNC Lathe is similar to the 2-Axis but adds the live tooling – or milling – feature. This is like having two machines in one. A 3-axis CNC lathe allows the operator to do standard lathe work with the option to mill and drill the part as well using a high-speed live tool.
There are different types of live tool holders including radial (90° head) and axial (straight thru) styles. There are also two configurations when mounting these holders to the turret – either on the outside edge of the turret or on the face of the turret. Live tool holders can also be offered in single spindle, dual spindle or multi-spindle configurations.

MULTI-SPINDLE/DUAL-TURRET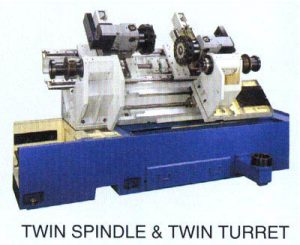 Another style of CNC Lathe offers two spindles and two turrets. This allows the operator to turn both sides of the part in a single operation – rather than turning one side of the part, removing it and putting it back in the lathe to turn the opposite side. Most configurations allow for the part to be automatically passed off between the two opposed spindles. This allows the operator to do both sides of the part without the need to have to set the part up a second time in the machine. There are two turrets – an upper and lower – one being used for the left spindle and one for the right spindle. They can include live tooling on one or both of these turrets. Many times this style of lathe also includes a bar feed interface to allow automatic loading of the bar stock for higher production jobs. Overall this style of lathe allows multiple operations in a single setup to reduce setup times and increase accuracy.
Keep in mind that a multi-spindle lathe can have either a dual spindle, meaning two spindles of equal size and power, or a sub-spindle, meaning that the spindle to the right is usually smaller in capacity and horsepower.

CHUCKING LATHE
A Chucking CNC Lathe is a lathe that has no tailstock. It is generally used for small, second operation turning and has a smaller capacity than a standard 2-Axis Lathe. Chucker Lathes can have a standard turret or gang-style tooling. Parts run on a chucker are usually short and small due to its lack of a tailstock for support of the part.

FLAT BED CNC LATHE
Flat Bed CNC Lathes do not have the typical 30° or 45° slant bed that a CNC Lathe is known for. Flat beds can offer a removable gap for larger turning diameters. Flat beds offer more open space for loading large or oversized parts. Brands such as Southwestern Industries make flatbed lathes that offer manual and CNC control in one machine. This allows for small production runs or simple one part projects. Flatbed CNC lathes tend to be less expensive than their slant bed counterparts.

BIG-BORE/OIL COUNTRY/HOLLOW SPINDLE
A Big Bore or Oil Field Lathe is a lathe with a large bore size (typically 6" or larger). The oil field industry generally requires turning of large diameter parts such as rollers, flanges, shafts, pipes, etc. This style of lathe is also used in industries such as paper mills, ship building and repair, textile and energy applications. Due to the work these lathes generally do, they tend to have longer bed lengths (120"+) and many will also feature an outboard chuck mounted on the left side of the spindle.
AXIS DEFINITIONS
Movements of a CNC Lathe are defined by the term "Axis". There are multiple variations for the term axis with regards to a lathe. Below are some common definitions for axis types:
X-Axis: The movement perpendicular to the spindle.
Z-Axis: The longitudinal movement of the turret.
Y-Axis: Vertical movement for milling/drilling operations.
C-Axis: This axis uses the spindle to position the part in the chuck at a specific degree.